Hi Guys,
I've been working on a title which I think is one of the most immersive gaming experiences out there at the moment and would love to hear about what you guys think and where we could take this?
The player wears an exo-skeleton mocap suit which gives us upper body 1:1 mapping of the movements of your arms, chest and head. We also get the player to wear a VR headset which I think makes all the difference as it
finally
allows motion gaming to pull off a 1st person shooter game.
So that's what we've gone and done; created a 1st person shooter game. Right now the game is very simple and I'm looking for some inspiration and original ideas on where we can take this and what we can achieve now that we have 1:1 mapping in a game. For instance, I was thinking about how I could incorporate 'a precise aiming' ability (a la COD). The reason this is made difficult in our system is due to the fact that you don't 'shoot where you look' as with all other 1st person shooters. I know that was the solution to VR 1st person shooters from yesteryear (shoot where you look) but that's just unintuitive to me (I understand they didn't have a choice!).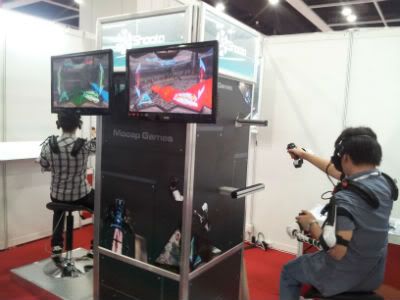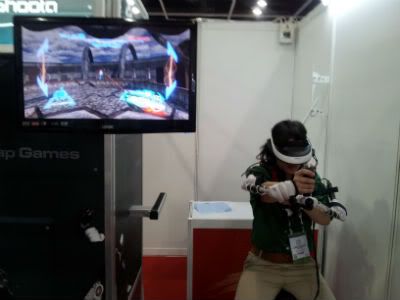 Would love to hear about what new gaming possibilities could be achieved with this system. Got to say that looking down at your own hands and seeing the "iRobot's" hands for your own is pretty **** cool but I know there's plenty more new and exciting things we can do with this.
If you would like to take a look at what we've got so far:
http://www.youtube.com/watch?v=A1nUH...ature=youtu.be
We have a website too but there's nothing on it!
http://www.mocapgames.com/
Right now we're a pretty small company and it's solely up to me to program/design/create the level and everything else it takes to make a game. If you would like to help me out in some way, get involved in something that could very well find its way into arcades or just talk about the possibilities of this system please don't hesitate to PM me.
Many thanks and I hope I'm not the only one that something like this excites!
Jake