Hello everyone.
This is a project i have been working on in my spare time, an educational program that can be used at home or in schools regarding the solar system and space in general.
Please forgive the lack of audio in the video. This is a work in progress, and having not touched on the audio side of things yet so i decided to just keep it out entirely. The video is a quick 6 minute fly through of the project as of January 2012.
Edit: This is an updated video as of March 31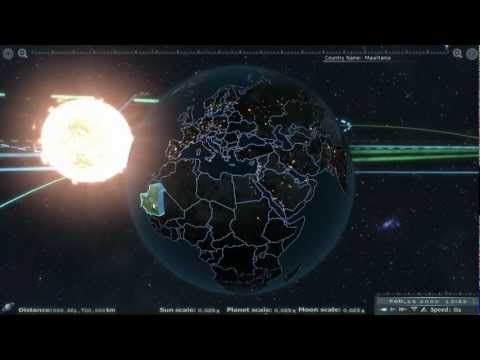 The project consists of:
The sun, 8 planets and all their moons. The time and positions of these are all accurate, and with the time function you are able to fast forward or rewind time to your desired date and see where the planets lie in relation to one another.
The 88 Constellations are also included, allowing the viewer to see them all in relation to one another. By double clicking one of them, the camera will fly to a location with the constellation centered and information on the side. Exiting this menu will fly the viewer back to the original planet you left.
One of the newest features (not shown in the video) is an option to turn on all the worlds countries. With this function, an outline of the countries borders will be shown, and when the viewer puts the mouse over a specific one, it will lift out, showing the location shape and name. This is a GREAT way to help kids learn about the countries of the world.
Each planet can be viewed freely, zoomed into and out of, scaled up for easy viewing or scaled down for accurate viewing.
The planets and Sun have a "Gravitational well" option illustrating the pull it has on the bodies around it.
There is also a cross section option illustrating the inner layers to each planet.
(Update)
There is now a Facebook page and Website for 'The Solar System'.
http://www.explorethesolarsystem.com...ar_System.html
http://www.facebook.com/Explore.The.Solar.System
I would love to hear what you all think of this project and how i can expand on what i already have.
Many thanks to everyone who has already helped me with its growth thus far. It's truly appreciated.
(Update2)
I am happy to announce that I have updated the software for the iOS, and it is now available to everyone for free!
Swing over to iTunes and have a look.
https://itunes.apple.com/us/app/sola...1182?ls=1&mt=8