Just want to let everyone know that the Alpha version of Recruits is available now!
Help support our development and head over to Desura to grab it and give it a go now.
Please remember that it is currently in Alpha, and it will be updated regularly!
Well, check it out.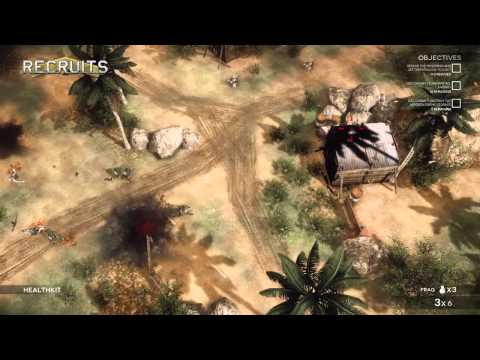 What is Recruits:
Recruits is a squad based top down shooter that puts players on the front lines of the battlefield to accomplish your missions through any means necessary. Fast paced and pack with explosions, Recruits offers a wide variety of features that allow you, and your friends, to to take command of the action and lead your men to victory.
Features:
* Fast Action Gameplay:
Action packed shooting, fast paced killing, explosions, booby traps and moral decisions, all make for an exciting and fun gaming experience.
* Simple, Fun Controls:
Using WADS to control your squad, your mouse for controlling your weapons, you have all the fire power you need at your finger tips.
* Wide Range of Weapons:
Machine guns, grenades, explosives, melee. Everything your team needs to complete your missions.
* Variety of Levels:
From Jungle to Urban, to Snow to Desert. Many war zone will be covered. Destructible objects and interactive elements immerse the player in their environment.
* Level Up System:
Level up with ranks, starting off as a low class soldier and working your way up through to Captain and General.
* Group Morale:
Having a morale system for traumatic events in the game. The more you can help people in missions the more points you gain and the more effective your team is, the more traumatic events you cause or witness and your team start to feel emotionally affected, hindering your performance and risking your chances to survive..
* Command your Team:
Having the ability to give basic commands to your team members such as Defend, Attack, Search and ReGroup allows you to tackle all situations.
* Special Abilities and Upgrades:
Gain points to level up and earn special abilities and upgrades such as napalm strikes, reinforcements, accuracy upgrades, and much more.
* Single Player and Co-Op Multiplayer modes:
A single-player mode puts the player straight into the action and fighting for their country. A multiplayer Co-Op mode puts you and your friends into the war together with survival mode and the ability to replay single player missions.