Survivor; Forgotten World, is a First Person Survival RPG Featuring:

Exploration
Survivor is not going to hold you by the hand. You shape your own experience and so you
are free to do whatever is needed, but be aware that your journey won't be easy.
The world is there to explore and there will be many things to discover and find,
but it will be no happy adventure, the forgotten lands are harsh and unforgiving,
and you need to try to survive by all means.
Thirst / Energy / Hunger
You need to find food and water and try to get sleep among the constant dangers of the wilderness.
During the game, the player needs to go after his needs and can gather fruit, berries, hunt for flesh to cook, or even combine different kinds of nutrition to a meal.
Varying gameplay
Resources are limited, so the player can't stick to one location. He will have to constantly explore the island in search of Resources, safe Zones, leftovers, or even treasure, whilst avoiding the dangers of the wilderness and its inhibitants. Specializations, Skilltrees and random components
ensure a new experience over and over.
Complex Crafting System
You are by yourself on the island. You will need to find your own resources and make use of them. This means using wood to craft tools or anything from bamboo fishing rods to stone axes, and use these for varying purposes. You will be able to build small structures and barricades
to fortify your position a bit and improve your chance on survival.
Body Damage Feature
You can get injured, fall, get poisoned, ill, undertemperature, and all kinds of things.
Breaking bones or flesh wounds need to get cured if you want to live on.
Body temperature also plays a role, you need to get dry after beeing in water, and
staying too long in the cold or the heat can have negative effects on your health.
Survive together
Survivor will feature 4-player online co-op where you can team up with friends and battle the wilderness alongside each other. Survivor is a unique take on the survival genre with many interesting ideas, creating a unique and deep but difficult experience.
Based on UDK
Survivor uses Unreal Engine 3, which has strong graphical performance and allows for an
sandbox open world with rich visuals.
True First Person Motion
Using the True First Person Technique - allowing body awareness and full control over the player's body animations,which adds a whole new level of depth and realism in the game.
A lot more!
Expect a lot of cool features throughout development!
Survivor FW is the perfect game to add any imaginable content.
More will be added to this text, text is not final and contains errors.

Game Media [Latest Update]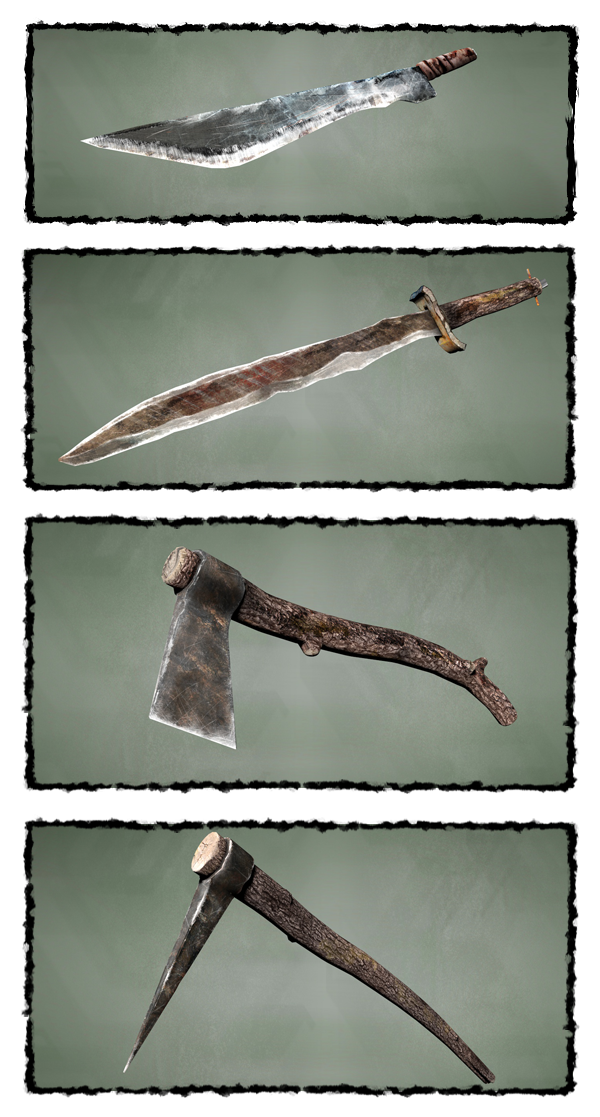 The WW2 Shovel, a selfmade bow, and tribe (burning) and selfmade arrows. There will also be
a bone carved tribe bow, as most of our weapons come in 2 or more different kinds.
Models and textures may be replaced and especially textures are not final for
some meshes. (The white arrows are untextured of course)
Thank you for looking into, and stay tuned for more updates! Follow us if you like
Wanted:
- Environment Artist / Level designer
- 3D Modeler
- Texture (Shader) Artist
- (Concept Artist / Animator / others!)
Contact/Follow Us!
Follow Survivor on twitter!
http://twitter.com/#!/risingsoulgames
Check us on moddb!
http://www.moddb.com/games/survivor
We are always looking for people to help out, send a PM if you're interested