Intro
Here's the WIP development thread for a project that myself and Count de Money are working on. Both of us loved old space sim games and lamented that no one's made a really fun one in awhile, so... since we have the UDK and know a thing or two, we might as well try?
The biggest influence for us is Freelancer because it really allowed for exploration, you could actually fly out to that planet or asteroid belt you saw (hint: see the tiny blue orb in the screen below, we're traveling there!). Sadly, few other space sim games allow you to really explore (e.g., Black Prophecy is just a simple tiny level with no ability to explore or fly to anything you see). We've also never understood why space games don't allow you to simultaneously walk around a space station, then hop in a ship and fly. So that's precisely what we're working on at the moment, creating a very simple space station to launch your ship from and explore the solar system.
Proof of Concept
We created this sort of WIP or proof of concept to see if we could actually even pull off the vast distance necessary in UE. After much moaning and complaining (largely by me), we've got it to a place where we're happy. It takes about 5 minutes to "warp" across the solar system via jump gates, and takes about 30 minutes to simply fly across. We're trying to balance scale and exploration with fun and playability, and think those numbers feel about right. Here's the video of me flying across the solar system to test for scale and distance. Obviously all the artwork is just place holder stuff meant for testing and will be entirely replaced as we go along.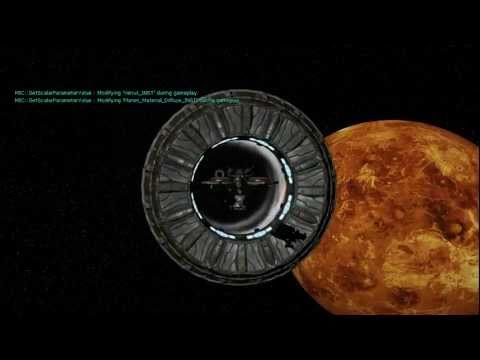 Significant Work Done So Far
- Implemented a fully functional, pitch, roll, yaw, 6 degrees of freedom flight system. This was a huge technical obstacle that I finally overcame (you'll note the lack of true 6 dof flight games in the UDK, even after all this time). Since I'm not a programmer by trade, I'm proud I actually pulled this off! Despite my occasional complaint, kudos to Epic's UnrealScript, it's actually not that difficult for a lay person to pick up.
- A vertex shader using kismet and the material editor to scale planets based on distance. This is absolutely *essential* to selling the scale. Without it, large sized planets are completely visible and large across the map, making the solar system feel tiny. PS. if anyone knows how to turn off the HUD warnings you can see in the video, let us know!
- Implemented everything at 1/4 scale, vehicles, player, speed, etc.
- Completed a few simple assets for our space station.
- Blocked out the entire space station, you can now walk around a shell of the station and launch from a hangar.
Dan's To Do List
Programming
- Implement mouse flight controls... this is the one that is likely beyond my programming abilities and for now and will likely be tackled much later (feel free to volunteer if you want to do it!)
- Modify the code for our little jump gates, it's a bit buggy.
- Add a freelook camera, in addition to current chase and cockpit camera views.
Art
- Finish assets for the Hangar, including landing pads, a console and general clutter.
- Put in a Sun including flare.
- Continue work on procedural planetary shader capable of handling very large planets (already partially done).
- Continue work on asteroid belt/planetary ring using the particle editor (already partially done).
- Custom ship, including particle systems and basic gun.
Recent Updates [in editor shots]
[shot]http://img714.imageshack.us/img714/4909/capture2me.png[/shot][shot]http://img18.imageshack.us/img18/6906/captureprq.png[/shot][shot]http://img220.imageshack.us/img220/4903/capturekhr.png[/shot][shot]http://img684.imageshack.us/img684/97/wallpiece.jpg[/shot]