https://itunes.apple.com/us/app/monk...7126?ls=1&mt=8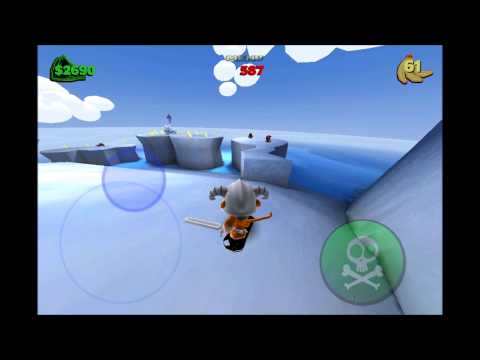 Monkey Land 3D is one of the few games that stands on iTunes store as it has a unique concept and a refreshing story. Our hero Mugen the pirate monkey is seeking lost treasures among beaches jungles, caverns, and a giant pumpkin.
Funny story went with our monkey waking up next to a cute girl Suki who tells him about the banana crisis. They are everywhere and the reason of this event is a mystery to the monkey world. There's even more bad news as the Great Pumpkin Seed has been stolen and to make things worse, your pirate mates just want to continue looking for the lost treasure. For Mugen this was a nightmare.
monkey land 3d sub zero gameplayIn a Sub-Zero sequel, Mugen continues to hunt for ancient treasures, but this time in a frozen world full of enemies that are trying to stop him from reaching his goal. Oh and he got a snowboard to help him ride frozen lands.
Swing Mugen's blade at those enemies, jump on monsters for a funny squish effect, and fight your way for glory.
The game is a classic platformer with easy controls. Simply tilt your screen like a steering wheel to turn and be sure to collect goodies on a way. For example, grab your helmet on the lower deck for protection, or jump on the re-spawning death-crawlers for bonus points. They are evil after all, no guilt comes from squishing them.
Built using the latest in Apple gaming technology, Mugen will keep you entertained for a long time. The game is available on iTunes, but does have all the good features of a true platformer such as power-ups, friends and foe, and action.
Explore an open 3D world made with the latest Unreal technology that brings real time environments with seamless graphics to life.monkey land 3d sub zero story Control the came and your character while navigating through the map in an attempt to snowboard through a frozen land.
Players loved Monkey Land 3D so Matt, the developer, decided to give us an early Christmas present by releasing the sequel. If you liked platform games like Donkey Kong, then you will enjoy this cute monkey pirate.
Monkey Land 3D Sub-Zero will be released for free on iTunes tomorrow.