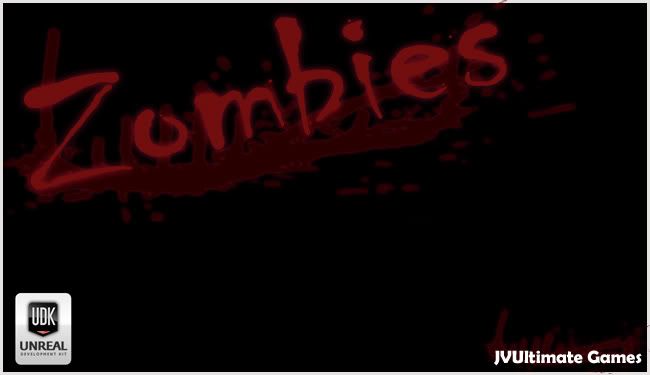 Donations can now be made for the Documentation!!! Please Help me out and Donate! Enjoy the demo!
Donate at
http://www.jvultimate.com/
its on the top right!
I have received 3 donations so far Thank you all that have donated : ]

Beta Demo Release
:
So after months and months of work, the Zombies Beta Demo is finally released.
With millions of bugs and other little things. Probably the most major bug is that the mini map doesn't cook with the game.
I will re-upload with working mini map once that problem is fixed.
Please view my progress thread here :
http://forums.epicgames.com/showthre...2#post28674852
Fixed Issues
Notification Text on the Left now fades out.
You can now skip the intro sequence. Its also shorter and you can read the text now.
Taking damage is more noticeable now.
Puzzles are a little different. May take some figuring out.
Important objects give off a glint.
Computer monitor glows now. [Emmisive]
Zombies can see you from a bit farther away. They still need work.
Lowered the games overall exaggerated bloom. Muzzle flash lowered.
You can now pick up Health packs. Healing effect PP coming soon.
Make what you have to do to open the tunnel door more obvious.
Still Having issues with the MiniMap not cooking with the game, will have that fix when i can.
AI Still isnt the greatest.
Known Issues
MiniMap Does not appear on cooked game
[*

]When you hit yes to "Show Hints" anytime a hint pops up your character will continue moving forward once you hit 'close'

GenericZombies will sometimes do odd things like go off onto a wall

Tyrant floats even though his collision is set properly

Save and load is still iffy, sometimes saving the game will not load the proper events depending on where you saved the game

Character still has no head... bear with me

Game is not optimized for lower end pc's sorry guys. Lower the resolution as much as you can
The options menu doesnt work. Im working on a clever plan for saving settings, wait for Next Beta release
May be more. Just let me know
First things first
Download the Zombies Beta demo below
ZOMBIES BETA DEMO
Source Code/Content Disclaimer (Taken from Readme_First.txt)
Zombies Demo Beta Release 1.1
This Source does not work as is you must first :
Download UDK July Beta from www.udk.com/download
Install UDK July Beta
Copy Zombies_July_Sourced Developement/UDKGame folders and overite anything that needs to be overwritten over to the UDK July install directory
This assumes you have knowledge of UDK I will not baby anyone into learning how to do preliminary tasks.
Learn those things then come back and mess with my sourced Content.
What you cannot do/Is not for :
You DO NOT have permission to use my content in any of your creations free or commercial. It is for testing/ learning purposes only. You are free to use the Code however.
This is not a Starter Pack of any kind. It is meant for learning. I repeat you may use the code, but not any of the art assets at all. In your free/commercial game.
This is a full game in the making so do not think of this as a give away!
If you would like to contact me email me at
jonathanvgames@hotmail.com
If you are to email me these are the conditions.
You must state your name and nick name in the header/title line of the email like so.
Format/Conditions :
Jonathan "TheAgent" Vazquez ( so that i may find your name in the forums if need be ) If you dont it will be redirected to my spam folder.
You cannot offer/ask me to join your project or join mine. I will not merge game with anyone else. This is a solo project and also an experiment for my self sorry its just a personal thing/goal.
Do not ask me how to do something in UDK. My documentation will tell you all about my code, and some tutorials. Everything else you will have to search in the forums I am not an expert, and cannot help with everything. More than likley I will ignore the emails. I get a lot during the day.
I will take suggestions and bug/fixes so please email me with that! Just follow the formatting rules please. It makes it easier/faster for me to respond to you.
Questions about paypal and how to donate should be directed at PayPal please. I can only do so much.
These are the contents and its sizes
Src's (Code) : 692kb / 82 Files
Packages(Art) : 806mb / 24 Files
Maps (Levels) : 126mb / 10 Files
Total (All Content) : 1.04gb / 743 Files
Compressed : 605mb
I have been working with 22.7gb of Raw Source Data
Download Zombies July Beta Source
Download Mirrors!
Demo :
http://www.gamefront.com/files/20678...ll-Zombies.exe
Source:
http://www.gamefront.com/files/20646...ly_Sourced.rar