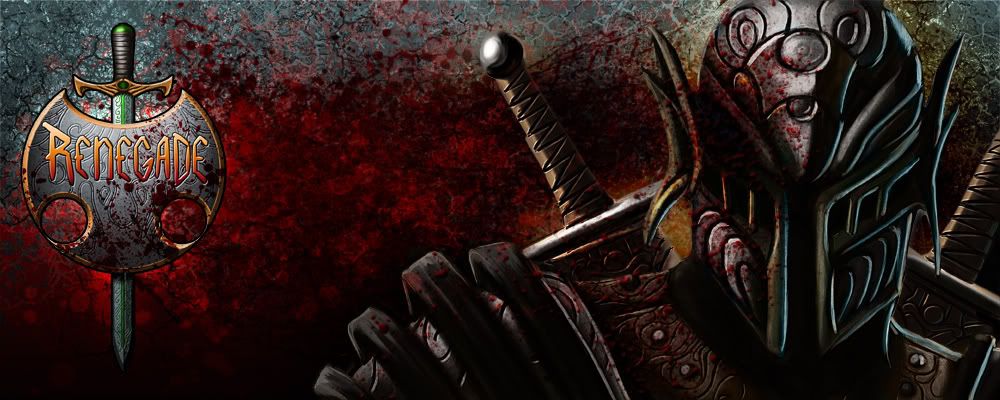 GAME DESCRIPTION
Renegade is an intense action packed third person medieval combat game. It utilizes traditional combo style attacks while incorporating innovative game play mechanics to bring a new style of third person melee combat. Renegade will be a solely multiplayer game including numerous amount of traditional and completely original game modes to play. We will be incorporating intuitive concepts from other games as well as original content to provide a unique gaming experience. Renegade will be aiming to reach qualitative visuals and play feel while being portrayed in a historical setting.
The time frame of the environments and characters will be in the classic Medieval time period. The theme of the game play and combat mechanics will strongly emphasize brutality and skill. We want the feel of the game to allow players to feel badass while playing a game that incorporates elements from third person action RPG's and MMO's to become an original game.
Renegade's innovation will to be an addictive multiplayer game people want to play over and over again where new tactics and strategy arise from every battle. There will be an sizeable arsenal of weapons to choose from including Swords, Daggers, Spears, Hammers, Scythes, and more. Also there will be a variety of Armors to choose from including special armor sets and exclusive armor pieces. To establish a RPG feel we will have three different character classes to choose from to accommodate play styles: Brawler (Agile), Fighter (Normal), and Brute (Strength). Players will be able to customize a variety of options for their weapons, characters, and game preferences. There will be a carefully designed system for unlock-able content for players to accumulate play time and skill to earn and keep renewing an enjoyable gaming experience.
Major features in Renegade that make it a original game are its combat system which brings a combo attack system into a multiplayer setting. We have numerous amounts of game modes that include traditional modes and truly original modes to emphasize Renegade's ideals. The unlock-able content you must complete Eulogies (similar to Challenges) to obtain more weapons, armor, and special abilities. The feel of the combat will be cinematic as it is skillful and makes the player feel like they're being a brutal badass. On the social end, we will enable players to form Clans and fight as a team. Renegade brings elements of intuitive concepts from different games to bring a fun and addicting game.
We will be adding content and visual previews as they come!
POSITIONS AVAILABLE
Positions in grey are not available right now, but will be available soon.
We won't be picky or strict for our applicants. Simply this is a chance especially for first time or senior indie go-ers to join a team and get a game out there.
Attach a resume or portfolio with your application and whatever else documentation you feel to share with us to help you.
Send applications to udkrenegade@gmail.com
- Universal Qualifications -
Though some of these are not required, they will give you a foothold
Experience working with an Indie team
Completing deadlines in a timely manner
Experience and familiarity with UDK
Formidable experience in your area of interest
Familiar with Dropbox and have an account ready to accept file sharing
Have a Skype account to communicate with the team
- Animators/Riggers -
Animators will be bringing the 3D modeled characters to life with a variety of animations needed to accommodate the characters moves. It's a major plus if you can animate & rig, but we will accept either.
- 3D Modeler -
Modelers will be using 3dsMax or Maya depending on your preference. You'll be designing organic characters and non-organic materials like weapons and misc objects, whichever your experience and interest would favor. There will also be an area for Environmental modelers. We will definitely require some samples of previous work for modelers.
- UI Artist -
UI Artists will be designing the graphics for the in-game HUD along with creating menu's and other visual elements. Scaleform experience is a plus since it is the main platform for our UI. Flash experience is a must because you will be designing your graphics and animations with it.
- Sound Artist -
Sound artists will be making the assets needed to bring the audible experience to the game. The majority of your work will be making sound effects for weapons, environments, and ambiance. We no longer require a musical soundtrack composer.
- Programmer -
Programmers will need to know the foundations of Uscript. We will accept programmers to specify in Multiplayer support and possibly general Uscript. For networking insight we plan to be using steamworks, so experience with it is a plus
- 2D Artists -
(Only looking for environmental concept artists. Doing both is a plus!)
2D Artists will be designing conceptual work for a range of art including environments, characters, weapons, and misc objects. Artistic samples will be required in your application so we can determine if your art style accommodates our settings
Images