Hello,
I looked around for something like this but didn't find anything useful so tried to make my own and it works
so decided to share the class for those who need it
Edited UTWeap_PhysicsGun
- Removed Poke Function Disabled.
- Added a variable DefaultHoldDistance to force a minimum HoldDistance between the grabbed object and the player Pawn.
- Added Push and Pull functions to Push/Pull the grabbed object.
UPDATE:
- Added a Max push distance (set to HoldDistanceMax you can set your own look for "function PushTimer()" and edit the IF statement)
here is a demo video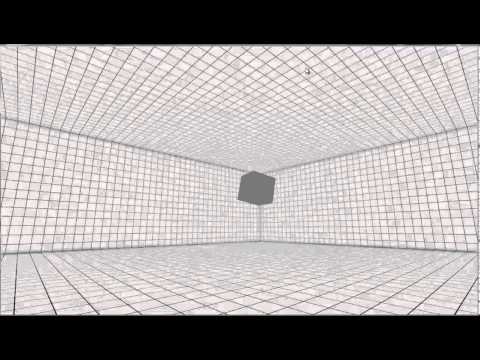 The class Code:
Code:
/**
 * Copyright 1998-2013 Epic Games, Inc. All Rights Reserved.
 */
class MyGame_Physicsgun extends UTWeapon
	HideDropDown;

var()				float			WeaponImpulse;
var()				float			HoldDistanceMin;
var()				float			HoldDistanceMax;
var()				float			ThrowImpulse;
var()				float			ChangeHoldDistanceIncrement;

var					RB_Handle		PhysicsGrabber;
var					float			HoldDistance;
var					Quat			HoldOrientation;


simulated function PostBeginPlay()
{
	Super.PostbeginPlay();
 
}

/**
 * This function is called from the pawn when the visibility of the weapon changes
 */
simulated function ChangeVisibility(bool bIsVisible)
{
	Super.ChangeVisibility(bIsVisible);
}

simulated function StartFire(byte FireModeNum)
{
	local vector					StartShot, EndShot; //PokeDir; 
	local vector					HitLocation, HitNormal, Extent;
	local actor						HitActor;
	local float						HitDistance;
	local Quat						PawnQuat, InvPawnQuat, ActorQuat;
	local TraceHitInfo				HitInfo;
	local SkeletalMeshComponent		SkelComp;
	local Rotator					Aim;
	local PhysAnimTestActor			PATActor;
	local StaticMeshComponent HitComponent;
	local KActorFromStatic NewKActor;

	if ( Role < ROLE_Authority )
		return;

	// Do ray check and grab actor
	StartShot	= Instigator.GetWeaponStartTraceLocation();
	Aim			= GetAdjustedAim( StartShot );
	EndShot		= StartShot + (10000.0 * Vector(Aim));
	Extent		= vect(0,0,0);
	HitActor	= Trace(HitLocation, HitNormal, EndShot, StartShot, True, Extent, HitInfo, TRACEFLAG_Bullet);
	HitDistance = VSize(HitLocation - StartShot);

	HitComponent = StaticMeshComponent(HitInfo.HitComponent);
	if ( (HitComponent != None) ) 
	{
		if(HitInfo.PhysMaterial != none)
		{
			if(HitInfo.PhysMaterial.ImpactSound != none)
			{
				PlaySound(HitInfo.PhysMaterial.ImpactSound,,,,HitLocation);
			}

			if(HitInfo.PhysMaterial.ImpactEffect != none)
			{
				WorldInfo.MyEmitterPool.SpawnEmitter(HitInfo.PhysMaterial.ImpactEffect, HitLocation, rotator(HitNormal), none);
			}
		}

		if( HitComponent.CanBecomeDynamic() )
		{
			NewKActor = class'KActorFromStatic'.Static.MakeDynamic(HitComponent);
			if ( NewKActor != None )
			{
				HitActor = NewKActor;
			}
		}
	}

	// POKE
	if(FireModeNum == 0)
	{ 
/**	 // Uncomment to enable the poke function

		PokeDir = Vector(Aim);

		if ( PhysicsGrabber.GrabbedComponent == None )
		{
			// `log("HitActor:"@HitActor@"Hit Bone:"@HitInfo.BoneName);
			if( HitActor != None &&
				HitActor != WorldInfo &&
				HitInfo.HitComponent != None )
			{
				PATActor = PhysAnimTestActor(HitActor);
				if(PATActor != None)
				{
					if( !PATActor.PrePokeActor(PokeDir) )
					{
						return;
					}
				}

				HitInfo.HitComponent.AddImpulse(PokeDir * WeaponImpulse, HitLocation, HitInfo.BoneName);
			}
		}
		else
		{
			PhysicsGrabber.GrabbedComponent.AddImpulse(PokeDir * ThrowImpulse, , PhysicsGrabber.GrabbedBoneName);
			PhysicsGrabber.ReleaseComponent();
		}
	}
	// GRAB
	else
	{
		*/

		if( HitActor != None &&
			HitActor != WorldInfo &&
			HitInfo.HitComponent != None &&
			HitDistance > HoldDistanceMin &&
			HitDistance < HoldDistanceMax )
		{   
			PATActor = PhysAnimTestActor(HitActor);
			if(PATActor != None)
			{
				if( !PATActor.PreGrab() )
				{
					return;
				}
			}

			// If grabbing a bone of a skeletal mesh, dont constrain orientation.
			SkelComp = SkeletalMeshComponent(HitInfo.HitComponent);
			PhysicsGrabber.GrabComponent(HitInfo.HitComponent, HitInfo.BoneName, HitLocation, (SkelComp == None) && (PlayerController(Instigator.Controller).bRun==0));

			// If we succesfully grabbed something, store some details.
			if (PhysicsGrabber.GrabbedComponent != None)
			{
				HoldDistance	= HitDistance;
				PawnQuat		= QuatFromRotator( Rotation );
				InvPawnQuat		= QuatInvert( PawnQuat );

				if ( HitInfo.BoneName != '' )
				{
					ActorQuat = SkelComp.GetBoneQuaternion(HitInfo.BoneName);
				}
				else
				{
					ActorQuat = QuatFromRotator( PhysicsGrabber.GrabbedComponent.Owner.Rotation );
				}

				HoldOrientation = QuatProduct(InvPawnQuat, ActorQuat);
			}
		}
	}

	Super.StartFire( FireModeNum );
}

simulated function StopFire(byte FireModeNum)
{
	local PhysAnimTestActor	PATActor;

	if ( PhysicsGrabber.GrabbedComponent != None )
	{
		PATActor = PhysAnimTestActor(PhysicsGrabber.GrabbedComponent.Owner);
		if(PATActor != None)
		{
			PATActor.EndGrab();
		}

		PhysicsGrabber.ReleaseComponent();
	}

	Super.StopFire( FireModeNum );
}

simulated function bool DoOverridePrevWeapon()
{
	HoldDistance += ChangeHoldDistanceIncrement;
	HoldDistance = FMin(HoldDistance, HoldDistanceMax);
	return false;
}

simulated function bool DoOverrideNextWeapon()
{
	HoldDistance -= ChangeHoldDistanceIncrement;
	HoldDistance = FMax(HoldDistance, HoldDistanceMin);
	return false;
}

simulated function Tick( float DeltaTime )
{
	local vector	NewHandlePos, StartLoc;
	local Quat		PawnQuat, NewHandleOrientation;
	local Rotator	Aim;
	local int    DefaultHoldDistance;

 	if ( PhysicsGrabber.GrabbedComponent == None )
 	{
 		return;
 	}

	PhysicsGrabber.GrabbedComponent.WakeRigidBody( PhysicsGrabber.GrabbedBoneName );

	// Update handle position on grabbed actor.
	if( Instigator != None )
	{ 
		DefaultHoldDistance = 96;
		StartLoc		= Instigator.GetWeaponStartTraceLocation();
		Aim				= GetAdjustedAim( StartLoc );
		// The Default/minimum distence between the grabbed object and the pawn
		
	    if(HoldDistance<DefaultHoldDistance){
	    	HoldDistance=DefaultHoldDistance;
	    }
		NewHandlePos	= StartLoc + (HoldDistance * Vector(Aim));
		PhysicsGrabber.SetLocation( NewHandlePos );

		// Update handle orientation on grabbed actor.
		PawnQuat				= QuatFromRotator( Rotation );
		NewHandleOrientation	= QuatProduct(PawnQuat, HoldOrientation);
		PhysicsGrabber.SetOrientation( NewHandleOrientation );
	}
}

/**
 * Consumes some of the ammo
 */
function ConsumeAmmo( byte FireModeNum )
{
	// dont consume ammo
}

/**
 * The Push and Pull funchtions
 */
exec function PushHold()
{
	SetTimer(0.005,True,'PushTimer');
	
	`log("Push Hold ");
	 
}

exec function PushReleased()
{
	ClearTimer('PushTimer');
	`log("Push Release ");
	 
}

exec function PullHold()
{
	SetTimer(0.005,True,'PullTimer');
	`log("Pull Hold");
}

exec function PullReleased()
{
	ClearTimer('PullTimer');
	`log("Push Release ");
	 
}


function PushTimer()
{
	if(HoldDistance<HoldDistanceMax){
	HoldDistance+=4;
	}
}

function PullTimer()
{
	HoldDistance-=4;
}

defaultproperties
{
	HoldDistanceMin=0.0
	HoldDistanceMax=750.0
	WeaponImpulse=2000.0
	ThrowImpulse=100.0
	ChangeHoldDistanceIncrement=50.0

	Begin Object Class=RB_Handle Name=RB_Handle0
		LinearDamping=1.0
		LinearStiffness=50.0
		AngularDamping=1.0
		AngularStiffness=50.0
	End Object
	Components.Add(RB_Handle0)
	PhysicsGrabber=RB_Handle0

	WeaponColor=(R=255,G=255,B=128,A=255)
	FireInterval(0)=+1.0
	FireInterval(1)=+1.0
	PlayerViewOffset=(X=0.0,Y=7.0,Z=-9.0)

	Begin Object class=AnimNodeSequence Name=MeshSequenceA
	End Object

	WeaponFireTypes(0)=EWFT_Custom
	WeaponFireTypes(1)=EWFT_Projectile

	FireOffset=(X=16,Y=10)

	AIRating=+0.75
	CurrentRating=+0.75
	bInstantHit=false
	bSplashJump=false
	bRecommendSplashDamage=false
	bSniping=false
	ShouldFireOnRelease(0)=0
	ShouldFireOnRelease(1)=0
	bCanThrow=false

	InventoryGroup=666
	GroupWeight=0.5

	AmmoCount=99
	LockerAmmoCount=99
	MaxAmmoCount=99

	bExportMenuData=false
}
Key Binding:
Code:
.Bindings=(Name="GBA_PushAway",Command="PushHold | OnRelease PushReleased") 
.Bindings=(Name="X" ,Command="GBA_PushAway")
.Bindings=(Name="GBA_PullBack",Command="PullHold | OnRelease PullReleased") 
.Bindings=(Name="Z" ,Command="GBA_PullBack")
I'am new to UDK so there may be some wrong methods in the code please correct me if you find any
TODO:
- Add a Rotate function to rotate the grabbed object Left/Right and UP/Down
Thanks