Hi!
Last few months I was working on "Water Flow" feature, and now its done.
So, finalizing
this thread
, I create tutorial, about all production process of this feature.
Video with final result of tutorial.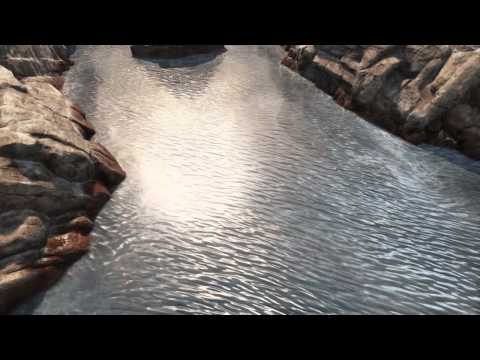 Tutorial document
Archive with all assets
Update 04/15/2013.
Maybe, for now, it can be named "Version 1.0".
- document structure has been changed, but it's almost the same that was.
- fixed issue with Rotator. For now, texture's rotation not influence on flow.
- added description about creating flow in Houdini using curves (see Appendix A).
- added scene with curves examples.
- assets saved in February 2013 UDK BETA2.
- IMPORTANT! flow map calculation has been changed:
Early, flow map calculation formula was:
($NX*0.5 + 0.5, -$NZ*0.5 + 0.5, 0)
and it was multiplied on (1; -1) in shader.
Now, calculation formula is
($NX*0.5 + 0.5, $NZ*0.5 + 0.5, 0)
and, in shader, Flow Power multiplied on (-1).
old variant also works fine, but new one more optimized.